>
One of the judges who awarded a controversial victory to Timothy Bradley over Manny Pacquiao defended his decision.
Duane Ford, an 86-year-old judge who scored the bout 115-113 for Bradley, spoke to journalist Steve Carp of the Las Vegas Review-Journal to discuss his view of the fight.
"This isn't American Idol. If I judge for the people, I shouldn't be a judge. I went in with a clear mind and judged each round," Ford said, adding he didn't think Pacquiao did enough to win the fight.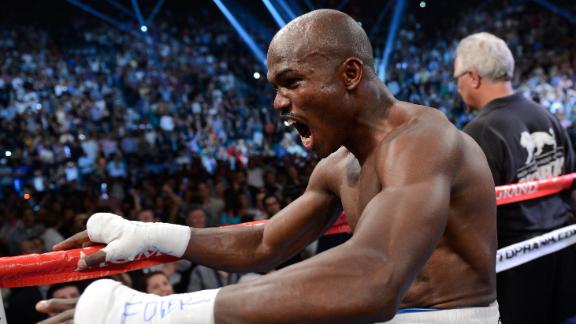 Image credit 1: espn.go.com
Compubox statistics showed that Pacquiao landed 190 of 493 power shots, compared to just 108 of 390 punches for Bradley. Pacquiao landed a total of 253 of 751 punches, while Bradley was 159-of-839. But those numbers were in contrast to what Ford saw. "I don't look at the punch stats but I saw Manny miss a lot of punches and Bradley hit Manny and win a lot of the exchanges," he said.
The judges in the fight have taken a lot of heat from fans, media, and longtime boxing observers, who have accused them of being either incompetent or corrupt. But Ford said he is able to sleep well at night after his decision. "I'm comfortable with my performance. I thought Bradley gave Pacquiao a boxing lesson," he said.
Pacquiao-Bradley Official Scorecard
sources & image credit 2:
Interaksyon & Everything in Budget Blogspot