>
At least fifteen (15) persons were confirmed dead after a strong earthquake, measured at 6.9 magnitude, occured offshore Negros Oriental at noontime on Monday, February 6, 2012.
According to the National Disaster Risk Reduction and Management Council (NDRRMC), the usual cause of death were collapsing fences and concrete walls, falling debris from houses and buildings, and landslide.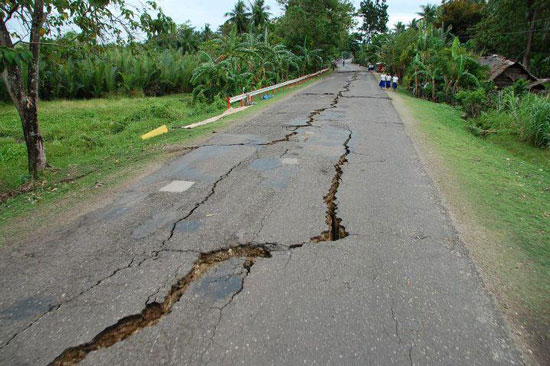 Image Credit: http://www.affordablecebu.com
In its Situational Report No. 3, released on February 7, 2012 at 12:30 a.m., the NDRRMC identified the casualties as:
Bernadette Raidan (9 years old) - Tayasan, Negros Oriental
Ramon Ganti - Tayasan
Anafe Estrabella (12) - Jimalalud, Negros Oriental
Manolita Corciega (10) - Jimalalud
Betty Manzano (62) - Guihulngan City
Cherry Pagao (23) -Guihulngan City
Gilbert Ubando (13) Guihulngan City
Eric Benigay (7) - Guihulngan City
Maricar Narciso (37) - Guihulngan City
Aljun Sabando - Guihulngan City
A certain Bayloces - Bindoy, Negros Oriental
Acebes Palumar - Bais City
Three unidentified - Guihulngan City
Fifty two individuals, 12 of them from Jimalalud and 40 from Guihulngan City, have suffered injuries due to the earthquake, the NDRRMC reported.